Question
&

Answer : Laminate flooring
In 2006 the Protégez-Vous magazine has published an excellent guide on what to look for when buying a laminate floor. Even if the numbers are slightly different today, the basic information given is very interesting and useful when it comes to acquire a laminate floor that is similar to real wood.
Marc Lepage, importer, distributor and retailer of laminated floors and André Gagnon technical director at l'Association Provincial des Constructeurs d'Habitation du Québec (APCHQ) are the resources persons consulted by the journalist Frédéric Perron.
This article was produced in accordance with Protégez-vous magazine management.

———————————————————————————————————————————————————————————————–
Just like real wood ? What we should know before buying a laminate floating floor.
One quick overview in all the weekly flyers in renovation stores around will show you how popular these type of floor covering have become in 2004. They were representing a 1 billion dollars industry in North America and today it has quadruple according to the North American laminate flooring association. Affordable, easy and quick to install, they imitate wood more than ever and it is a quick and economical solution along with the countless colors and finishes offered today.
Stratified or Laminate ?
Manufacturers and retailers refer to it as laminated floor and some other use the term stratified in reality it is the same but laminate floor is the most commonly used word to describe this type of floor covering. The name describes it's fabrication method because it is composed of multi layers stack on top of each other and then press together, while the term floating floor addresses mainly the type of installation without nail or glue, simply free to move but of course the individual planks are jointed together by an ingenious patented tongue and groove system.
What should I expect to pay for laminate floor ?
The prices will vary from 79¢ to 4.99$/SF depending on the models, the most expensive product will offer more realistic wood visual combined with real life like finishes. In most cases, they will have V grooves and all sides to mimic the real appearance of prefinished hard wood. It must be considered taking a product at 99 ¢/SF, often it could be liquidations, or products with very limited quantities or simply product that do not meet the basic standards.
Resistance ?
Laminate floor will always outperform real wood floor. As each test conducted in our edition of may 2002, a piece of wood floor has performed poorly where the surface had only received 500 sanding turns, compare to a laminate piece which has lasted between 1500 and 7500 sanding turns before seeing a visible surface deterioration. Although a wood floor can be re-finished, while laminated floor do not offer this option, in some case we can repair the affected area with a repair kit or change the plank for a new one.
Warranties ?
Most of manufacturers offer extensive warranty and they will vary from 15 to 30 years  for residential use. It will generally cover 4 aspects wear, fade, stain  and of course manufacturing visual defects. Needless to say that we must be aware of them because some of them will have a decreasing value based on the number of years of the original purchase while others are more limited .
According to technical director André Gagné (APCHQ), he believes that we should not only consider the warranty because if the retailer or the manufacturer goes out of business, the warranty is worthless. In all cases, those types of floor are made to last and they usually perform in most environments.
Can it be installed anywhere ?
The tongue and groove system makes sure the planks go together smoothly without nails or glue.
Laminated floor can be installed over any flat dry surface (concrete, plywood, vinyl…)  providing suitable underlayment. The main function is to absorb sound, provide proper support for the joints, help the unevenness of the sub floor (a carpet is not a suitable underlayment) . The cheapest version of underlayment will flattened within a few years, therefore creating a negative result .
We must remember that a special attention must be given when choosing the underlayment. Choosing the wrong type or trying to save money might lead you to a non adequate support, excessive hollow sound and even excessive movement from the click system that could lead to potential plank separations. We believe that the same care must be taken for choosing the underlayment or your laminated floor. In today's market, you should expect to pay a least 59¢/SF for a quality underlayment.
Sensitive to water ?
Like hardwood floor, the laminated flooring is affected by water.
It is not recommended to install this type of floor in a bathroom or at the main entrance. Care should also be taken when cleaning your floor, always minimize the water on your mop and if you drop a large amount of water it must be wiped right away, otherwise it will create permanent damage. Laminate floors are quite tolerant to humidity compare to wood floors, becoming the perfect choice for installation in a basement and area were we cannot control the humidity. Providing the installation of a vapor barrier (polyethylene) is recommended although some underlayment will have this feature already attached. In some cases a de-humidifier can be useful for a basement.
Easy to install ?
Most people buying laminate floors today will make the installation by themselves, complete and easy to read installations are provided. Following the instructions will make the installation without issues and will ensure the application of the warranty.
We must remember that your new floor must be kept in the room temperature 48 hours before making the installation. The next step is the installation of the underlayment with the integrated vapor barrier, then the floor can be installed following the longest wall. The assembly system will vary slightly from the different models but their installation are still quite easy. Some tools are required like a miter saw, table saw and some manual tools. If you want, you can refer yourself to a professional installer (average installation cost will be from 1.50 to 2.50 $/SF) to elevate the value of your laminated floor.
Maintenance ?
Laminate floor can be cleaned with a soft broom, vacuum cleaner or a damp mop (avoid excessive water) . Most retailer will have adequate cleaning products specially suitable for proper maintenance. Soap or greasy based products should be avoided, they will leave a residue on the surface. In most cases, warm water with a mist of vinegar will be the magical mixt.
—————————————————————————————————————————————–
Discover the advantages of being a member of the Protégez-vous magazine.
—————————————————————————————————————————————–
Ask your question to our  specialists in laminate floating floors.
Phone : 450 686-0888
—————————————————————————————————————————————–
New trends on the floor covering market the laminate floors are economical and easy to install.
How about their durability ? We've put them to the test.
Imitating traditional woodfloors the laminate floor is more and more popular because of the realism of the many wood decor and finishes see our section on questions and answers on this type of ever poplar floor covering.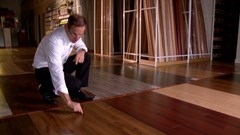 topic from Légitime Dépense tv show on Télé-Québec
Cliquez ici!

"Popularity of laminated flooring is not to deny. Not a surprise ! Laminate floor is easy to install, comes in a wide variety of colors and styles and is less expensive than harwood. But be aware ! This appealing avenue could give you different results then expected – even have real negative conséquences – gotta do your homework well during the shopping process. Légitime dépense will provide you all important infos to know before buying laminate for your house."
Plancher FLOR offers the largest selection of laminated floors in Canada .
See all the beautiful options we have to offer you on our website or visit our store for all your floor needs in any room of the house. For more information call us at 450-686-0888.
Coordinates…
Plancher flottant Flor / Warehouse-Store
1645, Autoroute 440 ouest
Phone : 450 686-0888
Email : info@flor.ca
Follow Autoroute 440 service lane north from Industriel boulevard.